What Exactly Is a Business Model?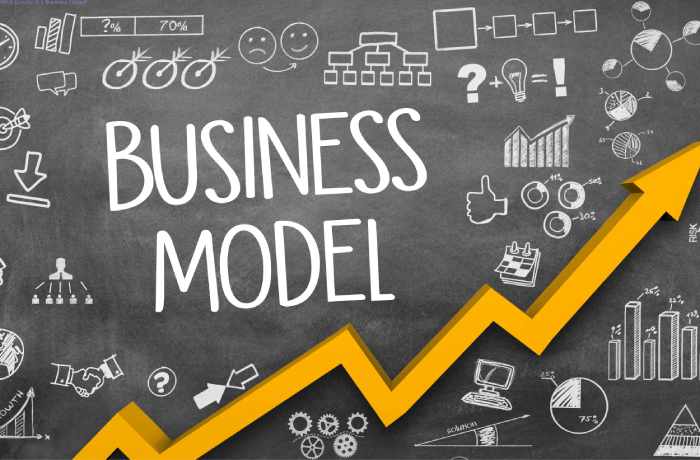 Business Model
Before the business plan, a business model is a tool that will enable you to precisely describe what you will give to the market and
how you will achieve it. Who you're going to sell it to, how you're going to sell it,
and how you're going to make money are all critical considerations. It is a tool for analysis that will help you understand who you are,
what you do, how much it costs, how much it will cost, how it will cost, and what sources of revenue you will have. Knowing your DNA—what it is, how it is created,
how it can be altered, polished, and changed—is essential to defining your company model.
When discussing a business model informally, the method of revenue generation is typically kept specific. Additionally, it is much more than that. The business model continues to be typically relativized with the income streams, and it discusses not just how to generate money but also who your consumers are, how to contact them, and what actions you must take to provide them with your value offer.
Your Unique Qualities
Javier Megas, an expert in company creation and business models, emphasizes that what makes you distinctive, what cost structure you have, etc., is a systematic vision of your firm.
For the consumer, the working models provide value. They may differentiate themselves, build solid relationships, inspire loyalty, and produce them in a distinctive way to the consumer by articulating a clear value offer.
You may validate a business model by getting people to pay for your goods and services. You may validate your value proposition in this manner. How can value be produced? Keeping a watchful eye on the client. Establishing a deep contact right away to understand their requirements and issues. After entering the market, you can discover that your company model has to be changed.
"The business model is subject to frequent modification. In the latest enlarged version of his best-selling book The Art of Getting Started 2.0 (Deusto, 2016), company development expert Guy Kawasaki cautions that failing to alter the business model or yield to make significant changes is scary.
Kawasaki gives the following advice when starting a firm to prevent changes brought on by a lack of preparation.
1. Focus on a particular market segment.
The stronger the client description, the more specific. Because they realize they won't be able to rule the globe with such a focus, many business owners are reluctant to adopt a too tight and particular concentration. On the other hand, the most prosperous businesses started with a maximum of a few markets in mind. Then they developed to a more significant size as they approached additional needs, according to one entrepreneur.
2. Keep things basic.
If you can't describe your commercial strategy in ten words or less, you don't have a business model. Avoid the trendy corporate language of the moment. It does not function as a description of a corporate strategy, he adds. And he illustrates: What is eBay used for? To charge a commission in addition to the quoted price. Discussion over.
3. Copy to other people.
All viable company ideas must have been developed at this time because commerce has been around for a while. Technology, marketing, and distribution are all areas where innovation is possible, but creating a brand-new business model is a losing tactic. He advises you to connect your company strategy with something popular and well-known.
4. Be enveloping.
The finest business strategies usually focus on growing the pie rather than getting additional slices of the same pie, especially for startups. Customers anticipate finding new, cutting-edge items."Enough already," he declares.
The first step is to validate your model with the market quickly. Additionally, if you have previously verified several models, you want to pick the one that the team can execute with the highest possibility of success. Evaluating and appraising their expertise, skills, resources, etc, is crucial.
Additionally, you may assess the market's size, the level of competition, the margins I'll use to move the needle, and the time it takes to reach a standstill.
"It's time to identify the hypotheses that your business model has," suggests Megas, "once you have identified those points in common, and the business model has already remained outlined, and you have already tested it simply with words with people."
Since you still intend to create a solar-powered hairdryer and people are not interested in it, the first hypothesis you must test is whether what you do provides value for others. Simply asking prospective clients outright if they find a deal in you will allow you to find out. It provides you with information, but it is not a final confirmation.
Whether or whether individuals are willing to pay is the second supposition. The toughest to prove is that. It has a lot to solve with the next thing, as the Americans would say: you may be fixing a problem, but it would just be good to have, not worth what you spend (for instance, WhatsApp). Sales are the only way to prove that notion correct, he adds.
Also read:-Illustrations of creative and effective commercials