Best Technology For Real Estate Agents Used in 2023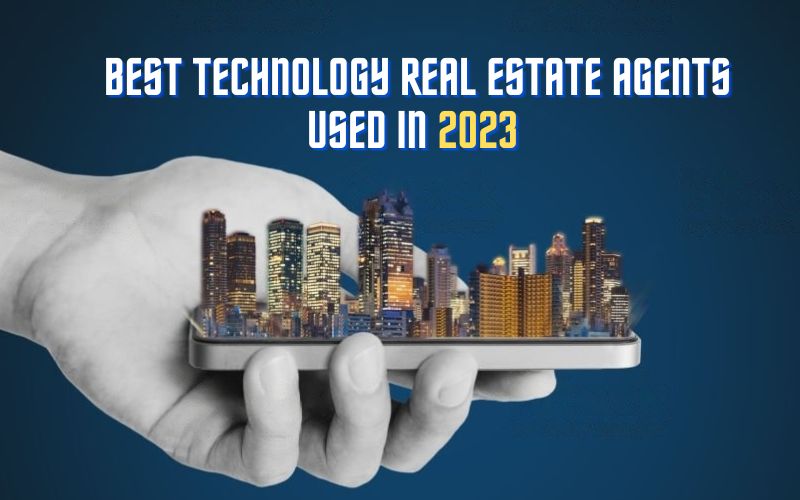 If we were to define best technology for real estate agents, they could be defined as people who represent sellers or buyers of property or real estate. They have a lot of tasks on their back, and they have to make sure they do their job efficiently and well.
Therefore, they should not only be able to rely on themselves but also use some essential technologies to help them achieve perfection in their field of work.
This article will focus on the essential technologies real estate agents should use in 2023 and some tools that could help them.
Client Relationship Management (CRM)
Regarding real estate, agents need to maintain a good relationship with their clients and clients because that's a big part of their job. Doing their present position is difficult if they don't build trust between themselves and their clients.
For this reason, real estate agents should turn to specific tools to help them with CRM. The first tool we might mention is Property Base. This tool is used worldwide and is one of the best customer relationship management tools.
Managing Tasks
Real estate agents are very busy and need to juggle all of their tasks efficiently and manage the stress that comes with the job. Multitasking can be tricky, but that's why you can use a tool and not do it yourself.
The second tool worth mentioning is related to task management and is called CoSchedule. You can quickly get started with this tool for free and manage all your tasks in one place. This is heaven on earth for real estate agents!
Social Media Marketing
Today, everything revolves around the Internet and social networks. As a result, many companies work closely with social media and even plan their work and tasks through social media.
A social presence is vital for real estate agents, allowing them to contact their clients easily and quickly. To help them, they need a few tools, and we will mention Hootsuite. With this tool, you can easily schedule and publish your posts to maintain your social media presence with ease!
Email Management
Clients will not hire real estate agents immediately and should email them and take precautions before anything terrible happens. Email is an essential part of a real estate agent's job as they need to be able to receive applications and offers and organize every detail easily.
That's why it's essential to use a good email management tool, and Mailchimp can be considered one of them. Your data is thoroughly analyzed to provide real estate agents with the best results and recommendations to improve their content and targeting.
Automated Rental and Purchasing Property Platforms
Today, the way customers find the new property they buy is changing the Internet more than real estate agents.
The NAR's 2021 Home Buyers and Sellers Generational Trends Report indicates that 43% of all buyers are looking for homes for sale online.
The benefits of using automated real estate technologies are considerable. However, consumers and real estate professionals are at a significant disadvantage if they select not to use these valuable real estate skill tools to find or sell a home.
3D Practical House and Apartment Tours
Closely linked to search applications, the solutions allow potential buyers to take a virtual tour of properties while selecting. It is among the top real estate tech trends for 2022 as it eliminates the time and expense of viewing multiple properties, many of which can be crossed off a potential buyer's shopping list through virtual viewings.
Of course, most buyers want to view the property before making a final decision. However, the time and cost savings for the client and real estate agent in identifying the best solution can quickly add up. Additionally, today's virtual reality technologies allow for near-realistic virtual tours of homes where you can easily examine the property's condition, interior details, and furnishings. And real estate photo editing services help make photos look as accurate as possible.
Conversational AI
Moreover, customers of real estate software demand the finest support and interaction possible. Therefore, the error rate should be near zero, the contact channels should be accessible around-the-clock, and the response time should be as quick as possible.
An automated service desk can quickly meet the needs using conversational AI. This technological approach goes beyond conventional chatbots, making it one of the critical developments in real estate for 2022.
Big data
The enormous amounts of data obtained about customer preferences are set aside in databases and data warehouses.
Machine learning-based real estate apps can forecast changes in rent rates with 90% accuracy. However, according to McKinsey research, changes in other property indicators might be forecast with 60% accuracy. That can help clients choose the best type of property for their investment, such as commercial or non-commercial property.
Blockchain
Tech-savvy readers may not directly make the connection between blockchain technology and real estate. Although many people know how blockchain is cast-off in cryptocurrency, it has many applications. However, in other areas of commerce, including real estate.
Blockchain technology can be secondhand to confirm encrypted transactions and ensure no tampering affects financial records. In addition, it will come in handy with fractional real estate investments, allowing owners to sell portions of their interest in a particular property.
Real estate technology will also enable the secure storage of essential documents such as title deeds. However, as with other market sectors, it has only scratched the surface as blockchain's potential for other cases. Moreover, in the real estate business makes it one of the top trends in real estate tech in 2022.
Mobile Apps
Mobile technology is one of the most effective tools employed in the sector, as seen in creating many real estate apps. Smart phones platforms for renting and buying are the most common.
Compared to the conventional methods of finding an apartment or house, these apps have several benefits for potential renters. Regularly updating databases allows for more timely information on newly listed properties and those no longer accessible.
Apps made specifically for their purposes are also available to consumers interested in buying, selling, or renting real estate. They can assist you in finding the home of your dreams and connect you with a real estate agent to help with the transaction.
Internet of Things (IoT)
Homes, apartments, and smart devices are changing the way we live in many ways. Intelligent machines, in general, are powered by the iot and are emerging as one of the biggest trends in property management.
IoT refers to integrating sensors and computing technology into various objects we interact with daily. The final goal of this technology is to provide people with a more comfortable and enjoyable life.
Let's explore how IoT technologies transform our homes and make their smart homes. There are three main features of a smart home:
Innovative services include devices like smart locks and lights and integrated services like housekeeping and package delivery.
Connectivity is built into an intelligent apartment during construction, allowing communication between devices, building systems, occupants, and management. Things like Wi-Fi, intelligent sensors, and smart access controls are benefits offered by enhanced connectivity.
Community stewardship by providing services that save residents time, money, and minor inconvenience is the final element of a smart home. The built-in events calendar, resident support, and on-demand services. Tare some of the features that help property managers and tenants create a more vibrant community.
By the way, one of the most sought-after pro-tech trends for apartment websites and real estate platforms. While new builds are the primary area for intelligent home deployment, older constructions can be reformation to provide the same level of connectivity.
Conclusion
In this article, we talk about the essential technology that real estate agents should adopt in 2023.
We've mentioned many important parts of any real estate agent's job and said a few tools that could help them achieve the best result.
However, The job of a real estate manager doesn't have to be difficult and exhausting . It can be made easier with some tools to improve their performance and provide them with a stress-free environment.
Moreover, this article is for you if you are a real estate agent or someone who wants to become one. With the help of these tools, every part of your work is covered and made easier.
Also read: 5 Popular Real Estate Agent Marketing Apps