Newest Software Trends for Billing and Invoicing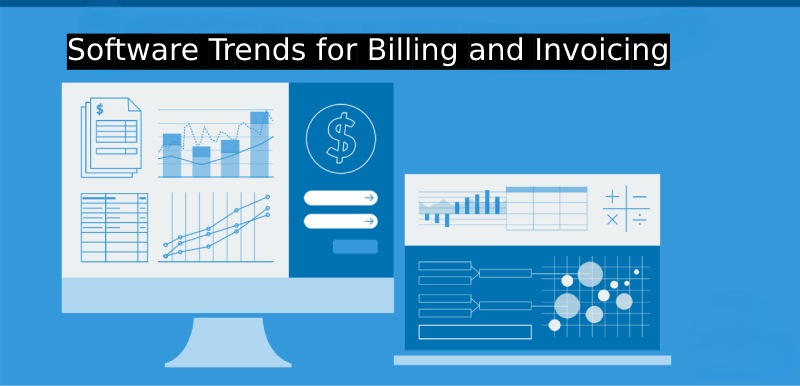 An increasing number of businesses worldwide are relocating their invoicing to the cloud, embracing automation advancements, and issuing client invoices. While on the go as technological innovation continues to encourage a global shift away from antiquated business operating practices. Although billing and invoicing software is getting more automated and user-friendly, it's still critical to stay up to date on these innovations if you want to make the most of them for your business.
Custom billing software adjusts proactively to the most recent advancements in automation, mobile-first development, and cloud-based operations to provide your business with a competitive edge. You'll be able to apply for the advances in billing software from 2025 by remaining one step ahead of the competition. Here are the essential details.
Automation
It used to be required to bill clients, manage subscriptions, and handle refunds manually. Multiple full-time personnel were needed for invoicing in larger businesses, which increased expenses and buried talented individuals beneath mountains of paperwork.
The entire process of creating and sending invoices can now be automated. Businesses can put up custom billing software in a matter of days and run automatically for years without human interaction.
Complex machine learning algorithms may undertake straightforward tasks instead of human operators, like beginning or stopping subscriptions. Software that automates billing can also figure out how much tax to collect when to bill clients, and when to issue refunds.
With automation, it's also possible to offer promotions, offers additional add-ons, and retry rejected payments without manual intervention. Automation also enhances billing software security by reducing human mistakes and centralising control of all processes.
Every time a payment is denied without the use of automatic billing software, manual involvement is needed, delaying the fulfilment process. Using conventional billing technologies, the upgrades and downgrades must also be manually calculated.
Manually recalculating invoice amounts for subscription-based services or transactions that use percentages is extremely tiresome. The distinctive advantages of automated billing software are already eliminating unnecessary barriers to innovation and growth. This trend will continue to accelerate as machine learning, and artificial intelligence becomes more adept.
Mobile Invoicing
Ten years ago, mobile invoicing was cumbersome and error-prone. Since then, mobile billing software has advanced significantly. It is now simple and smooth to integrate with iOS, Android, and other mobile platforms.
Consumers and businesspeople are rapidly substituting mobile devices for laptops and desktop computers for daily tasks. This trend is particularly prominent in developing nations due to restrictions on access to cash and the vigorous promotion of electronic transactions in places like India.
With the advent of mobile invoicing, it is now possible to run entire companies from remote places with staff members who spend little time in the office. Efficiency and job satisfaction are increased while paperwork is decreased, resulting in lower turnover rates and quicker growth.
Integrating apps like Square into your mobile billing operations takes a few minutes, and mobile invoicing is frequently free. Companies are more willing to adopt electronic invoicing thanks to the substantially shorter onboarding period, and most mobile billing platforms also have desktop counterparts.
Mobile invoicing is quickly replacing desktop invoicing as the primary method for acquiring new clients, handling subscriptions, and other tasks by synchronising desktop and mobile operations with the cloud. Most mobile billing software platforms come with in-depth analytics engines, accelerating the quick transition to using mobile devices for most corporate processes.
Moving to the Cloud
Just ten or two years ago, businesses all over the world were still accustomed to managing bills only on paper. For many companies, switching billing operations to digital platforms was already a significant step. The risks of data loss and the requirement for ongoing backups made the change even more difficult.
Cloud-based invoicing was developed to address the gaps in the earlier electronic billing paradigm. Businesses could stop worrying about data loss by keeping data in an off-site location, and for the first time, billing software was utterly worry-free.
But nowadays, businesses rely on the cloud for much more than data protection. Unlike offline choices, cloud-based software for invoicing activities encourages a more straightforward setup, quicker data access, and easier cooperation.
The evolution of billing software has strongly emphasised cloud-based operations to give businesses a consistent method of managing bills. Although some of the current suppliers of billing software have adopted cloud functionality. The emergence of the cloud has also made it possible for new providers to create billing software built entirely on the cloud.
One of the main reasons why many businesses avoided switching to cloud-based billing software was questionable security. You put yourself in danger by permitting a third party to store your private financial information on their servers thousands of miles away.
Cloud-based billing software vendors have resolved this issue by including more security safeguards. For example, it is now standard practice to encrypt invoice data with cutting-edge methods. As cloud computing has improved in security, so too have benefits that have trickled down to the particular use of cloud-based invoicing.
Invoicing Is Evolving Rapidly
Any manual intervention in the invoicing process will seem antiquated in five years. Mobile devices are increasingly the preferred access point for initiating and monitoring invoicing operations. Automation is swiftly displacing human operators from the labour-intensive task of invoicing. Cloud-based invoicing already consolidates the invoicing efforts of an entire company into one format that is universally accessible across multiple platforms.
While using pre-existing digital invoicing solutions may be acceptable for businesses who don't mind following the competition's lead, creating custom software that considers your company's particular requirements is frequently wiser. The creation of custom invoicing software is simple to use, scalable, and thoroughly adapted to your unique organisational structure and long-term expansion goals.
The most recent advancements in billing and invoicing software are lowering errors, enhancing productivity, and encouraging expansion. You may be proactive in preparing for the commercial environment of 2025. Beyond by embracing the development of invoicing today.
Also read: Language Learning Websites
Also read: Efficient SEO Strategy