Best Kitchen Gadget for Apples You Need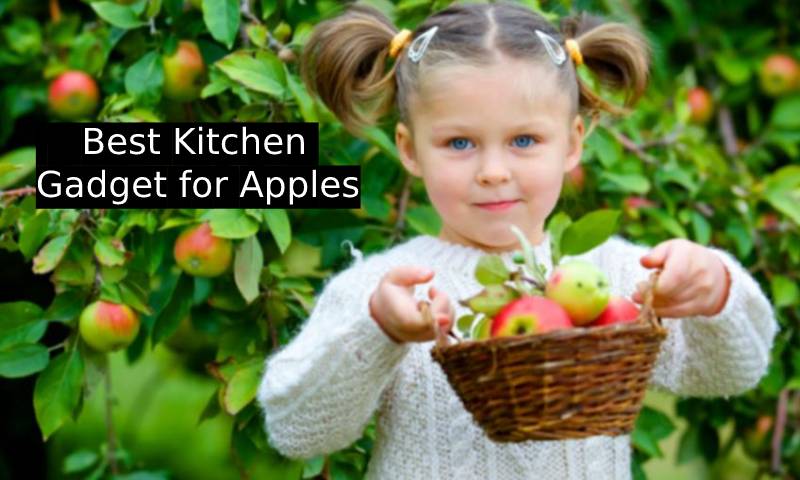 Once again, the weather turns chilly, and your Instagram feed fills with images of friends and random strangers choosing Gala, Honey Crisp, and Pink Ladies apples in a picturesque orchard.A durable tote bag to transport your harvest, a collapsible cart if your bags are more like bushels, and even a cool fruit harvester gadget to reach the high branches are all valuable items to carry for the actual orchard outing. However, we're more concerned with the supplies you'll require when you bring your crop home.To help you turn those mountains of apples into pies, crumbles, ciders, and other delicious treats, we've compiled a list of the top seven kitchen gadget for apples and cooking utensils.
1. OXO Apple Slicer

Do you need another kitchen tool that performs a single task? The answer is yes if you've ever used an OXO Good Grips apple slicer. This circular, stainless steel tool with non-slip handles makes it simple for beginners to core an apple and slice it into eight perfectly sized pieces. Perfect for packing in school lunches, dipping in peanut butter or caramel, or sprinkling with a bit of lemon juice.
Amazon is offering the OXO Good Grips Apple Slicer for $10.95.
2. Pie Dish by Emile Henry

According to our tests, the Emile Henry ceramic pie plate produces the flakiest crust, can endure high temperatures and is dishwasher and microwave safe. The porcelain dish, which measures nine by 2 inches, comes in various attractive colors and looks lovely when carrying a traditional apple pie. (Although red may appear to be the most celebratory.)
For $39.99, purchase the Emile Henry Pie Dish at Amazon.
3.Great Jones Hot Dish 

Apple crumbles is a classic fall treat made with sweet-tart apples, rolled oats, and dark brown sugar. Use the Great Jones Hot Dish to elevate your rendition. This nine-by-12-inch casserole dish, which has a contemporary shape ideal for oven-to-table presentation, will be your go-to for all your crumble needs, roasted birds, lasagna, and much more.
For $75, get the Great Jones Hot Dish.
4. Seasoned 12-inch Cast-iron Skillet from the Lodge Chef Collection

Cast-iron skillets are, without a doubt, kitchen MVPs, thanks to their unending variety and toughness. However, if you don't already have one, apple season is a great time to buy one. This large pan can handle anything from sautéed cinnamon apples to a beautifully delicate apple-filled Dutch baby from now till the end. The Lodge Chef Collection Seasoned 12-inch Cast-iron Skillet, which has good non-stick qualities, a comfortable handle, and a reasonable price, is the best cast-iron skillet we've tested.
Williams Sonoma sells the Lodge Chef Collection Seasoned 12-inch Cast-iron Skillet for $39.95.
5. Beaba 4-in-1 Baby Food Maker

Homemade apple sauce is a straightforward treat, as Diane Keaton charmingly showed in the 1980s classic movie "Baby Boom." The Beaba Babycook 4-in-1, our choice for the finest baby food maker, is a simple, all-in-one appliance for producing smooth and wholesome purees, such as applesauce made from any apple variety you can find on the farm.
Add a little cinnamon for older babies if you're in the mood for something hot. Furthermore, nothing stops you from making homemade apple sauce long after your children start eating solid foods.
You can purchase the Beaba Babycook 4-in-1 Baby Food Maker at Amazon for $154.99.
6. The Ateco Donut Cutter

Apple cider doughnuts are unique for various reasons, including their transitory, once-a-year availability, and deliciousness. If you're beginning from scratch, think about juicing fresh apples for the cider in a lovely apple press. Either way, go the additional mile to produce a batch this year.
The Ateco stainless steel donut cutter makes it simple to cut through the dough and produces a batch of gorgeously consistent doughnuts that are a fall favorite.
Amazon has the Ateco Stainless Steel Doughnut Cutter for $6.99.
7. Scandinavian Ware Heritage Bundt Pan

Nothing is cozier. There's nothing better on a Sunday than hot tea or freshly brewed coffee with homemade Bundt cake, and when apples are included, the meal becomes very autumnal. The 10-inch Nordic Ware Heritage Bundt pan has a solid cast-aluminum construction and a non-stick, simple-to-release design. It is the best bundt cake pan we've tested. A bonus is the pan's stunning, sculptural shape.
Williams Sonoma is selling the Nordic Ware Heritage Bundt Pan for $39.95.
You're getting closer to mastering the kitchen. Join Chef's Course as the next stage. Top chefs will send weekly advice, tricks, and recipes to your mailbox. It's an entire master's program that is free.
Also read: How Is Artificial Intelligence Impacting Hotel (Hospitality) Industry?
Also read: Top 8 Social Networking sites For Posting Mini Blogs