Seven Typical Business Video Types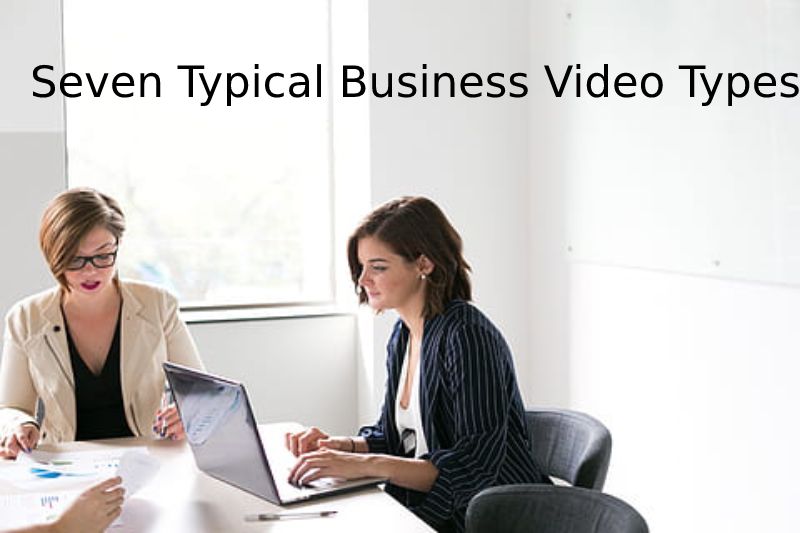 You can rapidly see that videos have taken over the Internet if you scroll through the feed on any social media platform. They are employed in various industries, including entertainment, instruction, marketing, and more. So why not maximise it? and use such a great tool to appeal to our potential clients' hearts? You'll learn about the seven primary categories of business video types today, so keep reading to find out which is perfect for your project.
1.Advertisement
Commercial videos aim to increase public knowledge of a brand, item, or service. Usually, they last between 30 and one minutes, but seldom longer. Commercials showcase your product and draw in new customers. You only need to get the viewer enthused about what you do in this kind of film; you don't need to go into great depth or demonstrate how to use your product.
2.Video Product Demo
Would you like to promote your product? Then demonstrate it in use. Videos of demonstrations are more suited to this task. It is crucial to discover who will watch the demo film and whether or not they are already familiar with your company and products. Be brief; these videos are typically between one and four minutes long. Instead, make it concise. Explain to the audience what issues can be resolved and how.
3.Video on social media
Social media videos come in a wide variety of styles and genres. It's crucial to research their video standards before filming because Facebook, Twitter, and Instagram are the most frequently used social media platforms for sharing this type of content. Social media videos can range anything from 15 seconds to hours. However, remember that most users browse through their feeds rapidly and don't watch content for more than 20 to 30 seconds, so start your video with the most exciting material.
4.Live streaming
The easiest way to connect with your target audience is through live streaming, which allows them to attend events you organise using online platforms virtually, ask questions, and discover more about your business or services. Additionally, the streams can be saved so other followers can watch them later. You won't have to cope with this corporate video's laborious post-production and shooting procedures. You only need a tripod and a smartphone with a reliable Internet connection.
5.Educator Video
One of the most well-liked types of videos today is explainer videos. Both live-action and animation options are available. Animated movies perform better for businesses that deal with something abstract, like web or tech services, but the first type is appropriate for nearly any firm or product. Viewers unfamiliar with the subject will need specific advice, pointers, or a manual when watching this movie. As a result, you can include more details in this kind of text. Explainer videos might be anywhere from two to seven minutes long. It may take longer to plan the video because structure is still important.
6.Instructional or How-To Videos
Business videos should not only bring in new clients but also look after the ones you already have and assist them when necessary. And this is where guides and instructions are helpful. They last between 5 and 10 minutes on average and provide more specific information. The person watching such a video is already interested in and has used your goods or service; they need assistance. Therefore, don't be afraid to get to know your customers and show them how to use your product.
7.Video of a Customer Story
We often read reviews before purchasing, so why not establish your authority by making a video review that includes a client's experience? The audience might be able to relate to the speaker and see how you assisted them in solving their issue. You can share this kind of video on social media or in your website's "About Us" section. You not only draw in potential customers, but you also convey to them how much your business values their business.
Clean Up Your Content
Even with the best actors and meticulous planning, video editing is where the magic happens. Consequently, a powerful video editing package is essential for producing high-quality material for your company. Here are a few possibilities for you to think about.
Use a website-based service like InVideo to edit your video content online. Adobe Premiere Pro can be a good choice for your project if you're willing to put a lot of time, money, and effort into creating a video montage. It provides the most popular tools for adding music, cutting, composing captions, and other features. Finally, use Clipify if you want to edit films like an expert without investing much time learning the program.
Conclusion
You are now prepared to use a video to promote your company and increase productivity. You were shown seven common categories of information that you might employ. Don't limit yourself to just one type of video; blend as many as you can. Additionally, you can choose one of the video editors we suggested to enhance your video. So go ahead and introduce the world to your goods right now.
Also read:How to Create an Online Marketplace